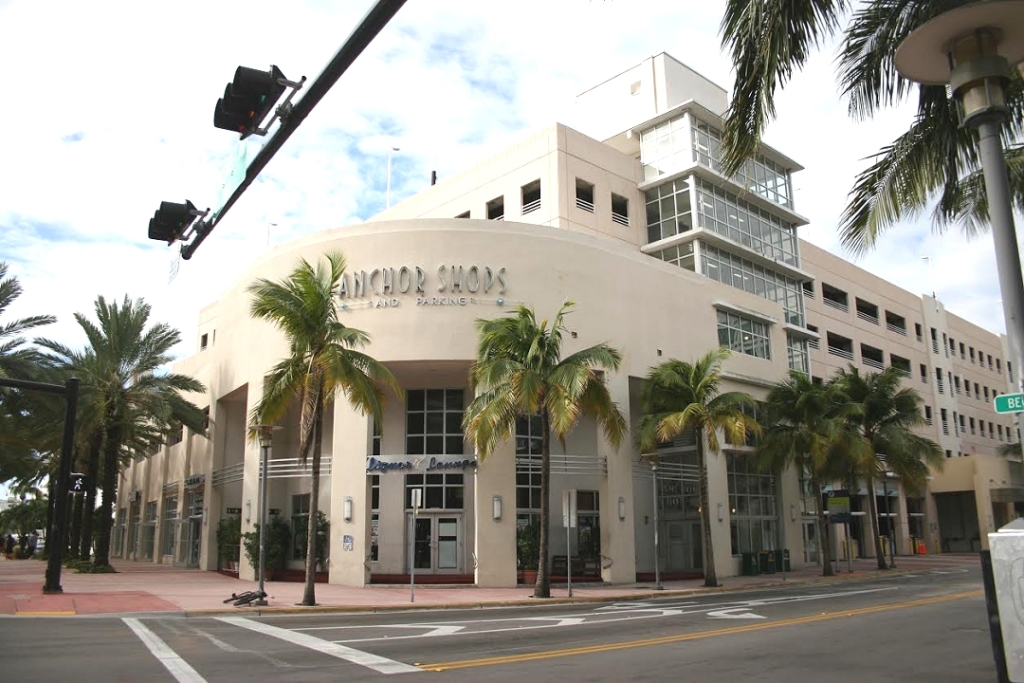 Anchor Shops and Parking Garage
Wind Ready has extensive experience with Municipal projects, such as the one completed at the Anchor Shops and Parking Garage. Located in the heart of South Beach, the Anchor Shops and Parking Garage is a 24 hour shopping and nightlife venue with unbelievable foot and vehicular traffic. It is composed of several high-end individually operated retail and entertainment venues, and a 6 level garage complex that features a 6 story glass encased garage tower. Located on Busy Collins Avenue and 16th Street, it is less than 100 yards from the Atlantic Ocean. When the City of Miami Beach needed a contractor to remove and replace the existing non-impact fixed storefront glass and doors with a laminated Miami Dade Approved Impact system in a safe, timely, and efficient manor they chose Wind Ready.
Each individual laminated glass lite was custom manufactured in the Wind Ready facility to replicate the preexisting fixed storefront pattern. This meant taking exact measurements of the existing system and meticulously replicating it using the SMI Fixed Storefront System with 9/16" laminated impact glass by Old Castle.
Since the Anchor Shops continued to operate as a commercial center during the retrofit process, safety became a matter of utmost importance. In fact, the Wind Ready team continued to work around the thousands of daily visitors to the center each day. The protection of Life and property was successfully accomplished by implementing tried and true methods of safety and damage mitigation. With a perfect Wind Ready safety record that included no incidents, the site was never shut down. Another logistical challenge was changing a complete storefront façade in a retail location in a speedy and efficient manner. Store owners are almost always hesitant about any process that will affect sales. However, Wind Ready provided each proprietor with a complete manual that specified an installation schedule, delineated the installation process, and outlined the benefits of an impact storefront system. In addition to 24 hour hurricane protection, these store owners now enjoy a robust theft deterrent and prevention system in the form of fixed laminated glass. Clothing retailers also enjoy 99.9% reduction in damaging UV rays, and night club owners were able to significantly mitigate out bound noise on a busy night. The project was truly successful on multiple levels, and store owner responses became overwhelmingly positive.
"We are so very pleased with Wind Ready's attention to detail, professional installation, and customer service" said Viviana Alemani of the City of Miami Beach. She added "The center looks beautiful, came in under budget, and was on schedule from start to finish". No change orders were issued on this project.
Wind Ready provided a water tight coastal installation by glazing all glass storefront panels on site using the finest Dow Corning silicon adhesives and glazing materials. Additionally, Wind Ready isolated all commercial out-swing doors with structural steel to provide an even higher degree of permanent storm The City of Miami Beach and the tenants of the Anchor Shops will continue to enjoy this busy South Beach retail hotspot with the confidence that lives and property are now being protected 24 hours a day by another successful Wind Ready installation.